With the venue of her solo album and prestigious collaboration with Nouvelle Vague, Press has written a lot about Marina. We offer you to have a quick look around the world with the artist.




NEW ARTICLES WILL BE SOON UPDATED

FRENCH, ENGLISH AND GERMAN ARTICLES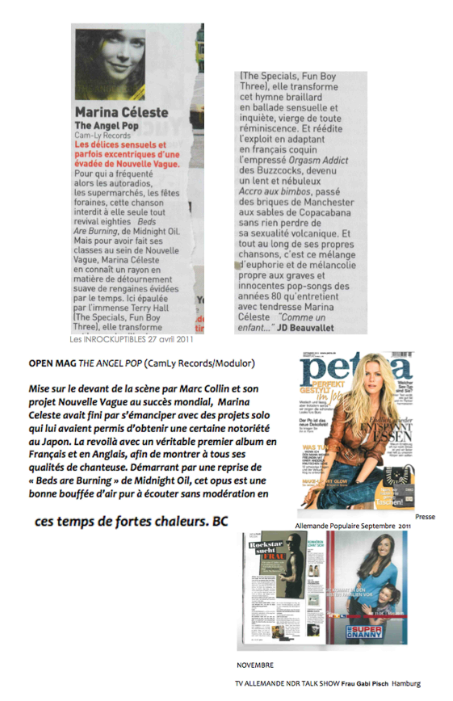 FAMOUS NEWSPAPER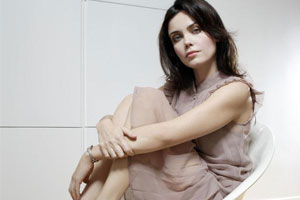 Reaction about the gigs in 2011 UK Tour :...
UK tour

Marina Celeste really won over the crowd during her performance at The Arches in Glasgow. In a stroke of luck, Gutter Magazine, sent down a writer to capture the nights proceedings.
"It's enough to make you want to move to Paris if every chanteuse is as enchanting as her." - Gutter Magazine
Gutter Magazine certainly look like they had a good time at the show, and if you didn't manage to capture Marina's electric live performance, check out their review to see what you missed.

French chanteuse Marina Celeste struts on stage in an overcoat and gold ballet pumps, backed by just two guitars and a Macbook. Opening with Nouvelle Vague favourite 'Forest', originally by The Cure, she is instantly hypnotic, with her ethereal vocals and sophisticated aura. Losing the coat, she tells us about living in the smallest house in Paris whilst developing her craft, and we are treated to the beautifully quaint 'L'Appartemente'. With her classic beauty and a confidence that builds at alarming rates as the hour-long set goes on, it's very hard not to be transfixed by her.
She fully exploits her feline qualities in 'Le Femme Chat' which echoes fellow feline lovers Lovage, Dan the Automater's project. Other highlights are Nouvelle Vague's version of 'Guns of Brixton' and 'Teenage Kicks'. She ends triumphantly, teetering on the edge of madness by losing most of her clothes for 'Too Drunk To Fuck', which sees her state that 'punk is not dead' while doing the Dead Kennedys proud by cartwheeling around and squealing in her Parisian accent.
She leaves the stage after a contrastingly delicate acoustic encore, gathering up her glittery dress and shoes and saying 'pardon' for her madness. It's enough to make you want to move to Paris if every chanteuse is as enchanting as her.


Marina Celeste caused quite a sensation last friday at her London Gig.

"Whether Marina's singing in her native French tongue, or heavily accented English, she still manages to convey a sense of innocence sensuality, teetering dangerously close to the brink of pure unbridled sexiness."
- Panic Dots

Her set at Cargo was a resounding success, and as you can probably gather, made quite an impression on the writer from Panic Dots who was sent down to review the gig. Great stuff!

She's been touring the UK to promote the forthcoming release of her third album The Angel Pop on June 13th, so we're glad to see so many publications getting behind her.


REVIEW: Marina Celeste – Cargo LIVE
21 th april 2011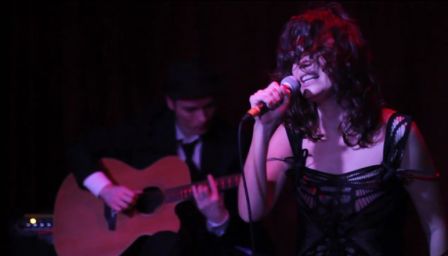 It's not often I get a night out in East London, but when I heard that former Nouvelle Vague vocalist, the deliciously French Marina Celeste, was going to be performing at Cargo, I Just couldn't resist.
The venue's an interesting space, packed to the rafters with local hipsters, rubbing shoulders with bankers (or, at least people with absurdly tacky taste in expensive watches) and devoted music fans from all across the UK's capital, sipping on two for one cocktails, and enjoying barbecued food from the beer garden's dedicated grill chef's. There's a festival vibe to the whole place, with nicer toilets, and less cause for wellies.
When I finally decide it's time to put the burger down, and head to the stage area, a considerable crowd has gathered and – wonder of wonders – they've actually congregated towards the front of the in stage in anticipation of Marina's appearance. Anyone who's been to a low-key gig in London will understand how rare this is – crowds over here have a soul-destroying tendency to keep well back from the front, preferring to chill by the bar, and chat over whoever happens to be onstage at the time. Not tonight. These people are here to see Marina, and they cannot wait for her to take the stage.
When she finally does appear, an unnatural hush falls over the crowd, as every man in the audience resets their dropped jaw. There's no denying that this performer is as stunningly beautiful as her voice suggests. Then the show begins.
Whether Marina's singing in her native French tongue, or heavily accented English, she still manages to convey a sense of innocence sensuality, teetering dangerously close to the brink of pure unbridled sexiness. While the majority of her songs are plucked from her upcoming album, The Angel Pop (which she worked on, and collaborated with The Specials' Terry Hall), she throws in a couple of covers that set the venue ablaze. Her rendition of The Buzzcock's Orgasm Addict had wives and girlfriends across the venue shooting daggers at their other halves while they stared transfixed at Marina's performance. The radio friendly cover of The Undertones Teenage Kicks (which has been doing the rounds on BBC 6 Music for a while now) is another stormer, and by far her most recognisable song in her set list. That is until she proclaims she's not drunk enough to perform the final track of the evening, and demands members of the audience bring her booze. A rush of glasses are thrust toward her on stage, and she cherry picks the ones that look most appealing, before her backing band start kicking off the recognisable opening bars to Dead Kennedy's classic Too Drunk Too Fuck. It's important to mention at this point, that Marina started the gig in an overcoat, and over the course of the set has been sneakily removing articles of clothing. Now bereft of coat, she stands before the audience in a sparkly mini dress, her modesty maintained by a micro slip that's practically a vest. During the course of her finale, the dress is off, and she's cavorting around the stage in her slip, screaming the vocals, lying on her back, REALLY getting to grips with Jello Biafra's lyrics. It is an amazing end to the night.
Her album, The Angel Pop is due for release on 13th June, and I would seriously recommend you pick up a copy.


Marina Celeste's Glasgow show has hit the news once again, this time in the Glasgow edition of Metro.

"It turns out her own songs are pretty strong too, combining rock, pop and trip hop to create something weird, wonderful and totally unique" - Metro (Glasgow)
As well as playing Arches in Glasgow on the 16th, you can catch Marina this evening at Cargo in London, so if you're anywhere near either venue, make sure you come down.


Marina Celeste Live At The Jazz Cafe, London


It is so easy these days to be third rate as a performer and artist yet still receive attention by the bucketload. If like me you have heard quite enough lately about Lixie Pott, Little Superdrug, Saturday Shop Girls etc it is refreshing to be able to report on a spirited performance that struck the right balance between skill and fun.

Renowned for her singing with French offbeat combo Nouvelle Vague and their retooling of punk and new wave songs into latin vamps and charming pop reimaginings, Ms Celeste is a chanteuse among chanteuses. Her band are respectful but pokey when needed, running from feathery whispers of sound to full six-man and two-guitar roar at times. The keys player could well be on the run from Devo at certain points in this set, as distorted bass noodles run under the drums and percussion team's steady pulse. It's the feel-every-note Fender bassplaying that underpins most of the selections tonight, however. Wafting onto the stage on a glittery top, Celeste has the audience watching her every bob and weave as her breathy voice floats over the meaty ensemble. Having the sense to mix in familiar NV versions with new material is a cool move and she keeps the crowd on board. Unfortunately a large portion of the audience keep chatting to each other throughout the show, not caring a fig about genuine listeners ; many of these gasbags are of Gallic stock and should be teleported to the nearest winebar where explaining where their shoes were bought and how much they cost might amuse their pals more than it did me. All venues should have an area where these morons can go and not bother music lovers….

These songs beg to be acted out and Marina Celeste is a natural at enlivening such material, she even climbs up the staircase and crawls around the stage at various points in the show. If she was nervous – this was their first London show – it didn't become evident at any point. 'Guns Of Brixton' becomes a sly tread, acoustic guitar against ethereal keys ;the kittenish voice murmers 'You can crush us..' and you believe it. French song 'Helene' is a feline slink over a doomy electro heartbeat. The basic elements of the band sound could well be Grace Jones' but the haughty iciness is supplanted by pastel insinuation. The jaunty Kings Road beat of 'Watching You Naked' is a highlight, with a hint of French goddess Zazie, one of this site's Most Admired.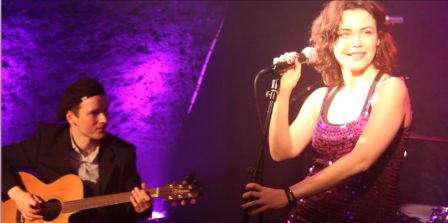 Dead Kennedys song 'Too Drunk' is spun out to a great reception. The Buzzcocks 'Orgasm Addict' is set to soft waves of wahwah guitar chording. Guitar man Roger wrote 'Under My Skin' and it works a treat, Blondie soaked in vinegar at heart but nonetheless delivered with charm and punch. Towards the end of the set the band's work on backing vocals is warming up the arrangements.

Returning for another punk song switched into a bossa nova and then finally the Brel-ish new number 'Too Much', Marina leaves the audience happy at a worthwhile show. Something different, working well Mention should be made of the gentle but insistent falling snowflake mood of the support set by Holly Throsby and her inventive drummer, Bree van Reyk.



FRENCH PRESS REVIEW
INTERNATIONAL PRESS