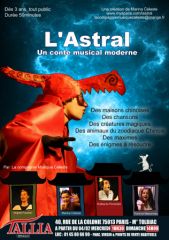 L'Astral est un conte musical, une histoire feerique pour les plus de 4 ans et tout public avec :
des maximes
des chansons
des animaux du zodiaque chinois
des enigmes a resoudre
des creatures magiques
des maisons chinoises

L'HISTOIRE :
Deux jeunes enfants sont aspirés au-delas des étoiles et découvrent un monde magique, que l'on appelle l'astral des fées. Nos jeunes visiteurs, Elsa et Sacha, accompagnés d'un chien et d'une petite souris, parviennent, une a une, a percer le secret des maisons de ce monde féerique. Dans chaque maison règne un animal et une maxime.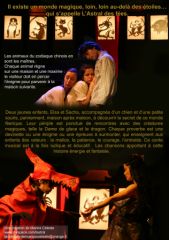 Tel un voyage initiatique, ils doivent faire preuve de bien des qualités, malice, patience, courage, confiance; pour répondre aux énigmes qui leur sont posées. Le visiteur victorieux parvient au palais des fées.

Et a chaque chapitre, sa chanson!
Au détour d'une histoire enchanteresse, ce conte musical enseigne aux enfants de vraie valeurs a travers des proverbes faciles a retenir, le tout concocte d'une musique électronique que les enfants vont adorer.

SORTIE digitale le 20 décembre 2012 sur toutes les platformes Itunes Amazon Fnac etc...

.............................................................ENGLISH...................................................................


Two children are spirited away, far above the stars and discover a magical world called Astral Fairyland. The two visitors, Elsa and Sacha, accompanied by a dog and a little mouse, manage to decipher, one by one, the secrets of each house in this imaginary land. Each house is under the reign of an animal and a maxim.


As in an initiatic journey, they must prove themselves through their wit, patience, bravery, and perseverance in order to resolve each enigma encountered. The victor gains entrance to the fairy palace.
And to each chapter a song!
By way of an enchanting story set to amusing electronic music, children are taught values through easily understandable proverbs.

Digital release 20TH december 2012

Marina et Les Enfants, Marina & the Kids


Mère de deux enfants, attirée par l'imaginaire, le ludique, et la liberté de l'enfance, Marina s'est lancée dans la création d'un conte. Presque par hasard, en fait. Elle l'a imaginé comme une rêverie littéraire, l'occasion de réaliser un tout en un, une histoire avec des dessins et des chansons. Ecrire, illustrer, chanter. Puisqu'elle aime l'univers des mondes où tout est possible, puisqu'on lui dit souvent qu'elle a des airs mutins de fées, et qu'au fond d'elle , elle en rêve des fées, à moins d'en être une elle-même? Elle a eu envie de créer, pour eux les enfants, le public le plus rêveur et le plus franc.

C'est ainsi que s'en mêle une certaine philosophie personnelle à sa plume, car une histoire propose toujours une réflexion en filigrane. A l'heure du DVD, ça peut paraître bizarre une histoire que l'on écoute, quelques dessins pour simple support de l'imagination de l'enfant? Un luxe, le temps. C'est par nostalgie des livres-disques de son enfance que cette parenthèse, dans sa création, ce conte musical, a pris cette forme proche du livre-disque. Aussi ce conte s'adresse plus particulièrement, à ceux qui commencent à goûter les plaisirs de la lecture... prendre le temps d'écouter, de rêver, comme autrefois. La musique électronique leur plaît, car les sons y sont ludiques. Une parenthèse, mais un tout en un, voilà en résumé la démarche créatrice de Marina pour les enfants.

...................................................................ENGLISH.........................................................................


Marina, a mother of two, drawn to the whimsical and imaginative world of childhood, began to create, almost in spite of herself, a story she conceived as a dream-like flight of fancy, an occasion to create an all-in-one, a musical tale that she would she would write, illustrate and sing. Inspired by magical realms where all is possible, inner worlds inhabited by fairies and pixies, and with the mischeivous elfin air that is her own, she wished to create a tale for the truest of dreamers… children.

The philosophy that permeates her writing underscores the narrative, and as such offers different levels of interpretation. In the age of the DVD, it could seem incongrous to create a story to be just listened to, with only drawings to spark the imagination. Taking time has become a luxury. But the nostalgia of the record-books of her childhood led her to create this musical story, a foray in her artistic activity. The narrative is addressed to those who are just beginning discover the pleasures of reading…a special moment devoted to listening and dreaming, a moment all children have loved for generations. And in addition, the playful, quirky sounds of electronic music add to the intrigue and are appealing to young ears. This is the how and why of Marina's fantasy for children.