Marina Joue dans le monde entier, Marina is playingall around the world... Concerts & Arty Private Shows : Japon, Brésil, Etats-Unis, Russie, Allemagne, Grande-Bretagne, Pays-Bas, Festival du Film Français à Moscou, "Vive La France" à Brighton, "Les Nuits de Paris" Amsterdam...

Next Shows / UK 3thd March, 4th and 5th March !!!


3third March THE FULFORT ARMS, YORK

4th March THE CLUNY, 36 LIME STREET, OUSEBURN, NEWCASTLE UPON TYNE, NE1 2PQ

5th March THE GREEN ROOM, GREEN DRAGON YARD, STOCKTON-ON-TEES, TS18 1AT

12 Septembre 2015 Paris, Le SwanBar 21h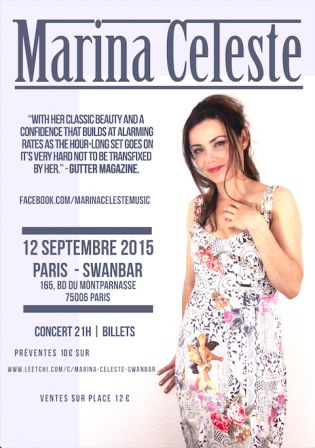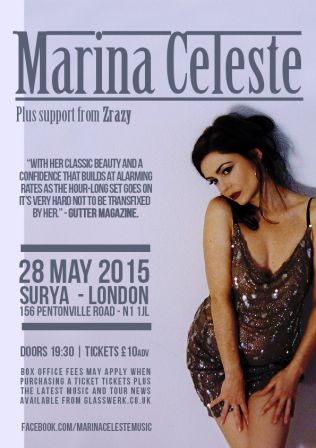 30 juin Paris, Le Réservoir 21h

26th May Brighton, Komedia Studio

Brighton: www.ticketweb.co.uk/event/156223


28th May London, Surya
London: http://glasswerk.co.uk/concerts/gig/12564/Marina+Celeste-Surya,+London/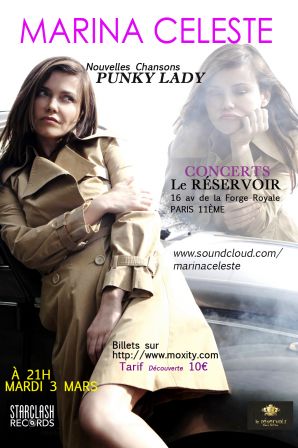 Concert Paris Le Réservoir, le 3 mars 2015 à 21h30
avenue de la forge Royale Paris 11ème.

* 24 septembre 2014 Paris 21H30 Le Zèbre Concert Exclusif : Marina en Show case au Zèbre découvrez l'univers de ses nouvelles chansons, surprenantes... entre sensualité et excentricité. Show case in Paris new tracks, surprising... between sensuality and eccentricity.
__
17 Mai 2014 - Les 3 Baudets - Paris. Nouveau spectacle Théâtre et Musique. __Comic Jazz, le nouveau spectacle en français de Marina Celeste, mélange one woman show, chansons pop et standards de jazz déjantés, le tout sur un ton jouissif et décalé.
* 31 janvier 2014 - Sinilind - Tallinn (Estonie)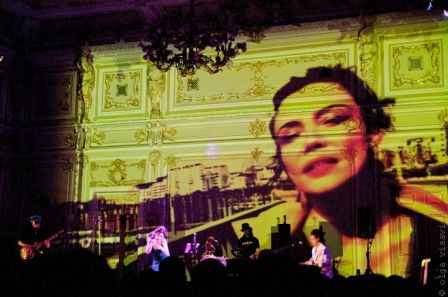 08 Mars 2013 - Tao - Saint Petersbourg (Russie)

24 Mars 2013 - Relais Et Châteaux Saint Martin - Vence (France)

07 Mai 2013 - Saint Petersburg Philharmonic Hall - Saint Petersbourg (Russie)

11 Mai 2013 - Art Of You - Almaty - (Kazasthan )

28 Juin 2013 - Tallinn Star Weekend - Tallinn (Estonie)

9 Juin 2013 - Tallinn Star Weekend -Tallinn (Estonie)

30 Juin 2013 - Tallinn Star Weekend - Tallinn (Estonie)

20 Juillet 2013 - The L Fest - Uttoxeter - (Royaumes Unis)

26 Juillet 2013 - Birthday Pop - Balver Holhle (Allemagne)

TO BOOK MARINA :
Please contact
marinaceleste@orange.fr or bigprodsounds@sfr.fr


8th November 2012 - London Surya Club
9th November 2012 - Brighton Latest Music Bar
01 Septembre 2012 - Châteaux De Fer (France)
13th September 2012 - Saint Petersbourg Schatsié
12th April 2012 - Opéra Garnier, Lancement de Jeanne Lanvin Couture, nouveau Parfum
17th March 2012 - Soirée Porsche, Moscou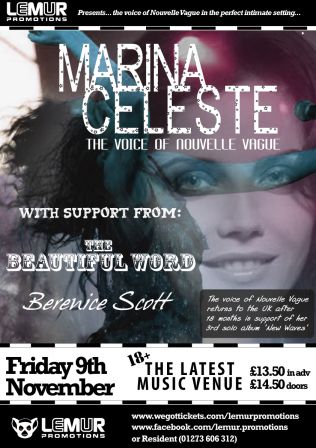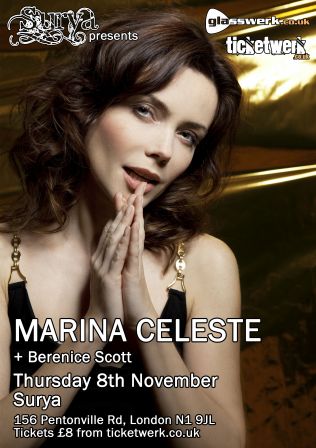 journalists enthousiastic :

"It turns out her own songs are pretty strong too, combining rock, pop and trip hop to create something weird, wonderful and totally unique" - Metro (Glasgow)