Read it in french & english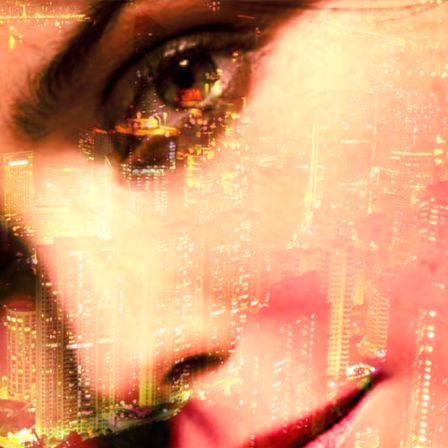 "Le sombre sous sol était le lieu idéal pour permettre à la chanteuse de Nouvelle Vague de nous révéler son nouvel album. Accompagné par un excellent guitariste et par moment par des enregistrements synthétiques , les nouvelles chansons étaient un mélange de pop celtique rêveuse, de morceaux jazzy évaporés et de titres électro à la Pet Shop Boys. Totalement dans son rôle de femme française sexy, sa voix pleine de souffle chanta l'amour, la vieillesse et même le féminisme, lors d'un morceau rock and roll déjanté. Les reprises attendues furent délivrées avec finesse, particulièrement un bon vieux"Guns Of Brixton", et un "Lovecats" enjoué, tandis que les subtiles chansons acoustiques parvinrent à faire taire même ceux qui n'étaient venue que pour discuter." Latest Music Bar, Brighton 9 November 2012. Steve Clements - The Latest  

"Tout du long, sa performance hypnotique captiva entièrement le publique, y compris Bogdan Terry. C'est un tourbillon déjanté, le manteau est remis puis ôté à nouveau, elle s'esquive en haut de l'escarbot, s'allonge sur le fauteuil tout en chantant, principalement en anglais avec une prononciation lourdement marquée de français. Elle ne fait pas que chanter cela dit, elle intègre également des bruits au cœur des chansons, parmi lesquels sa reprise du classique de Nina Simone "My Baby Juste Cares For Me". Certains de ces bruits sont enfantins, d'autres incroyablement sexy, c'est du pareil au même pour elle alors qu'elle se pavane sur la scène, à la fois réservé et provocante. Sa version de "Lovecats" balaye d'un coup de patte la version de Cure que j'ai vue plus tôt cette année au Bestival. On croirait facilement que Robert Smith l'a écrit uniquement pour elle." Sharron Davis Price - Brighton Noise Gig Guide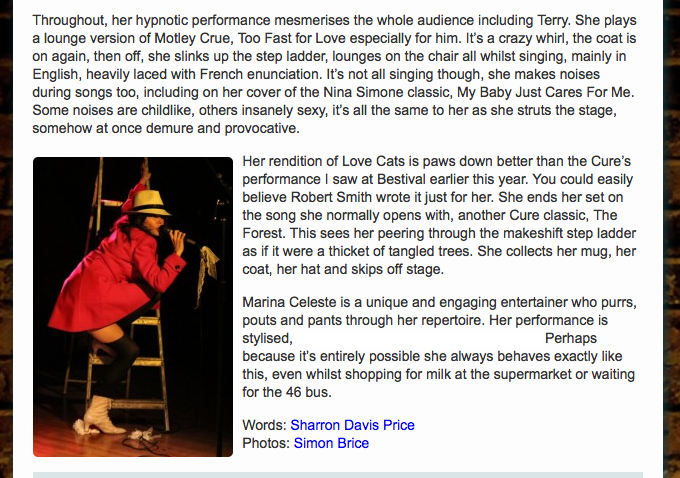 News article :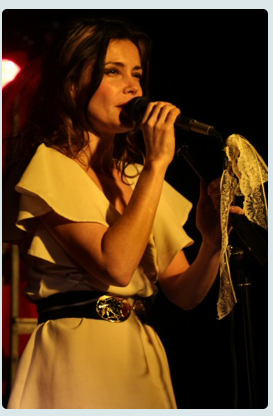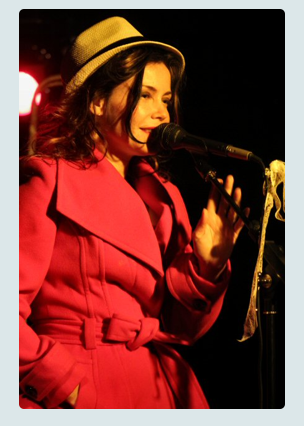 Marina Celeste really won over the crowd during her performance at The Arches in Glasgow. In a stroke of luck, Gutter Magazine, sent down a writer to capture the nights proceedings.
"It's enough to make you want to move to Paris if every chanteuse is as enchanting as her." - Gutter Magazine
Gutter Magazine certainly look like they had a good time at the show, and if you didn't manage to capture Marina's electric live performance, check out their review to see what you missed.

French chanteuse Marina Celeste struts on stage in an overcoat and gold ballet pumps, backed by just two guitars and a Macbook. Opening with Nouvelle Vague favourite 'Forest', originally by The Cure, she is instantly hypnotic, with her ethereal vocals and sophisticated aura. Losing the coat, she tells us about living in the smallest house in Paris whilst developing her craft, and we are treated to the beautifully quaint 'L'Appartemente'. With her classic beauty and a confidence that builds at alarming rates as the hour-long set goes on, it's very hard not to be transfixed by her.
She fully exploits her feline qualities in 'Le Femme Chat' which echoes fellow feline lovers Lovage, Dan the Automater's project. Other highlights are Nouvelle Vague's version of 'Guns of Brixton' and 'Teenage Kicks'. She ends triumphantly, teetering on the edge of madness by losing most of her clothes for 'Too Drunk To Fuck', which sees her state that 'punk is not dead' while doing the Dead Kennedys proud by cartwheeling around and squealing in her Parisian accent.
She leaves the stage after a contrastingly delicate acoustic encore, gathering up her glittery dress and shoes and saying 'pardon' for her madness. It's enough to make you want to move to Paris if every chanteuse is as enchanting as her.


Marina Celeste caused quite a sensation last friday at her London Gig.

"Whether Marina's singing in her native French tongue, or heavily accented English, she still manages to convey a sense of innocence sensuality, teetering dangerously close to the brink of pure unbridled sexiness."
- Panic Dots

Her set at Cargo was a resounding success, and as you can probably gather, made quite an impression on the writer from Panic Dots who was sent down to review the gig. Great stuff!

She's been touring the UK to promote the forthcoming release of her third album The Angel Pop on June 13th, so we're glad to see so many publications getting behind her.


REVIEW: Marina Celeste – Cargo LIVE
21 th April 2011
It's not often I get a night out in East London, but when I heard that former Nouvelle Vague vocalist, the deliciously French Marina Celeste, was going to be performing at Cargo, I Just couldn't resist.
The venue's an interesting space, packed to the rafters with local hipsters, rubbing shoulders with bankers (or, at least people with absurdly tacky taste in expensive watches) and devoted music fans from all across the UK's capital, sipping on two for one cocktails, and enjoying barbecued food from the beer garden's dedicated grill chef's. There's a festival vibe to the whole place, with nicer toilets, and less cause for wellies.
When I finally decide it's time to put the burger down, and head to the stage area, a considerable crowd has gathered and – wonder of wonders – they've actually congregated towards the front of the in stage in anticipation of Marina's appearance. Anyone who's been to a low-key gig in London will understand how rare this is – crowds over here have a soul-destroying tendency to keep well back from the front, preferring to chill by the bar, and chat over whoever happens to be onstage at the time. Not tonight. These people are here to see Marina, and they cannot wait for her to take the stage.
When she finally does appear, an unnatural hush falls over the crowd, as every man in the audience resets their dropped jaw. There's no denying that this performer is as stunningly beautiful as her voice suggests. Then the show begins.
Whether Marina's singing in her native French tongue, or heavily accented English, she still manages to convey a sense of innocence sensuality, teetering dangerously close to the brink of pure unbridled sexiness. While the majority of her songs are plucked from her upcoming album, The Angel Pop (which she worked on, and collaborated with The Specials' Terry Hall), she throws in a couple of covers that set the venue ablaze. Her rendition of The Buzzcock's Orgasm Addict had wives and girlfriends across the venue shooting daggers at their other halves while they stared transfixed at Marina's performance. The radio friendly cover of The Undertones Teenage Kicks (which has been doing the rounds on BBC 6 Music for a while now) is another stormer, and by far her most recognisable song in her set list. That is until she proclaims she's not drunk enough to perform the final track of the evening, and demands members of the audience bring her booze. A rush of glasses are thrust toward her on stage, and she cherry picks the ones that look most appealing, before her backing band start kicking off the recognisable opening bars to Dead Kennedy's classic Too Drunk Too Fuck. It's important to mention at this point, that Marina started the gig in an overcoat, and over the course of the set has been sneakily removing articles of clothing. Now bereft of coat, she stands before the audience in a sparkly mini dress, her modesty maintained by a micro slip that's practically a vest. During the course of her finale, the dress is off, and she's cavorting around the stage in her slip, screaming the vocals, lying on her back, REALLY getting to grips with Jello Biafra's lyrics. It is an amazing end to the night.
Her album, The Angel Pop is due for release on 13th June, and I would seriously recommend you pick up a copy.


Marina Celeste's Glasgow show has hit the news once again, this time in the Glasgow edition of Metro.

"It turns out her own songs are pretty strong too, combining rock, pop and trip hop to create something weird, wonderful and totally unique" - Metro (Glasgow)
As well as playing Arches in Glasgow on the 16th, you can catch Marina this evening at Cargo in London, so if you're anywhere near either venue, make sure you come down.


HERE READ MORE
DOSSIER DE PRESSE