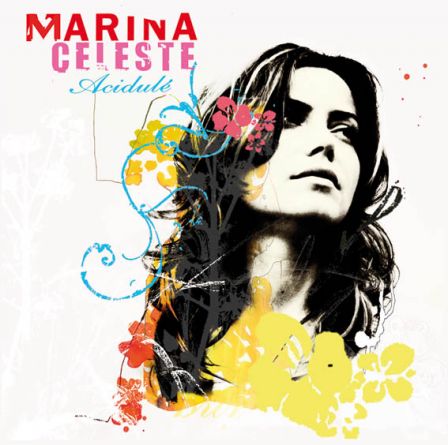 ACIDULÉ is Marina's first solo album. She wrote all the lyrics as well as most of the compositions.

An inventive album : with Marc Collin's arrangements bringing a subtle and original electro color to the songs, and with lyrics, delicate in their light and shadow, revealing the stylistic palette of a woman and her complexity.

The resultant alloy creates a special world of it's own.

A modern and innovative album, it's the zest of French touch and understated French chic that sets it apart. Neither dated, nor formatted, the album holds its own for the attentive listener, revealing it's many different facets. From it's bittersweet exterior to the mellow depths, the album's contrasts play against each other to move and cajole the listener.
An absolute pleasure!


...................................................................FRENCH...........................................................................

ACIDULÉ est le premier album solo de marina, dont elle a écrit tous les textes et composé la plupart des chansons.
C'est un album où les arrangements de marc Collin apportent aux chansons une couleur subtilement électro et originale.

Les textes, raffinés, légers en surface, révèlent la plume d'une femme, complexe.

C'est à la fois un album moderne et novateur, avec ce petit rien de chic français, de french touch, suggérée, qui y fait toute la différence. Ni passéiste, ni formatée par des recettes toutes faites, déjà vues, il faut plonger dans cet univers. Pour celui qui l'approfondit, cet album recelle bien des saveurs. Passée la première impression, sucrée, sa profondeur se révèlera et le touchera.
À gouter absolument.